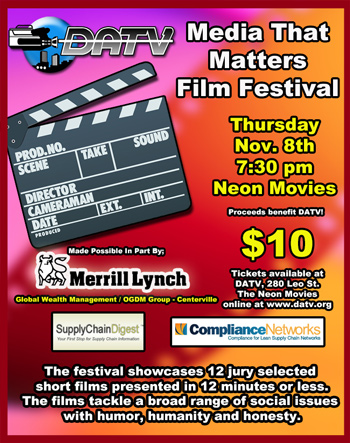 Help support DATV and be inspired by short films that aim to make a difference in our lives. DATV presents the "Media That Matters Short Film Festival" on Thursday, November 8th at 7:30pm, at the Neon Movies in Downtown Dayton.
The "Media That Matters Short Film Festival" is the premier national showcase for short films on the most important topics of the day. "Media That Matters" engages diverse audiences and inspires them to take action.
The festival features 12 jury selected short films that tackle a broad range of social issues with humor, humanity and honesty in 12 minutes or less.
"By presenting this showcase DATV hopes to inspire Dayton area residents to use media to help make a difference in our community," said Dan Suffoletto, Marketing Director.
Tickets to the festival are only $10 and may be purchased online at www.datv.org, at the Neon Movies box office, or at DATV's Public Access Center located at 280 Leo St. in Dayton.
Special Feature
DATV will be launching a new logo at the event. And all attendees will receive a DATV T-shirt.
Attendees will also receive a "Take Action Guide" that gives information about how they can take the messages of the films and make a difference in their daily lives.
Proceeds from the event will benefit DATV. DATV's mission is to be a community forum that empowers all citizens to learn, create and express their ideas through electronic media. To accomplish its mission DATV provides the training equipment and facilities for local residents to make a difference in their communities by creating their very own noncommercial cable TV programs.
2012 Festival Line-Up
AISHA'S SONG – JURY AWARD
Nigeria & UK (9:18) | dir. Orlando Von Einsiedel
Partially blinded by an unknown illness, Aisha has a chance meeting that sends her life in a completely different direction.
FOUR WOMEN, ONE REVOLUTION – WOMEN &
GIRLS MATTER AWARD
Egypt & USA (8:55) | dirs. Micah Garen & Marie-Helene Carleton
Four Egyptian women talk about their experiences in the revolution.
GROWING UP REFUGEE – YOUTH FILMMAKER AWARD
USA (5:28) | dir. Seanna Randall
A young Karen girl tells about her experiences in a Thai refugee camp.
ECHOES OF INCARCERATION – SPEAKING OUT AWARD
USA (9:58) | prod. Ibis Productions
Young filmmakers speak out about the overlooked national tragedy of children with incarcerated parents.
HIV IS NOT A CRIME – HEALTH JUSTICE AWARD
USA (8:12) | dir. Sean Strub, edit. Leo Herrera
HIV Criminalization has created a "viral underclass" creating different laws for different groups of people based on the viruses they carry.
THE STORY OF CHOLERA – GLOBAL HEALTH AWARD
Israel & USA (4:29) | dirs. Deborah Van Dyke & Yoni Goodman
Making visible the invisible cholera germs brings to life the teaching points of cholera prevention.
THE LAST ICEMAN OF CHIMBORAZO -
SUSTAINING TRADITIONS AWARD
Ecuador & USA (11:46) | dir. Gabriela Lozada
Deep in the Chimborazo volcano is hidden an ingredient to which people attribute healing and sacred power – Baltazar is the last man on earth who knows how to find it.
GERTHY'S ROOTS – BELIEF MATTERS AWARD
Haiti & USA (10:34) | dirs. Michael Collins & Marty Syjuco
The story of a strong and inspiring Haitian-born woman and her quest to make a difference in her beloved homeland.
WHAT DOES IT MEAN TO BE AN AFRICAN-AMERICAN WOMAN WHO LOVES HIP-HOP? – PERSPECTIVES AWARD
USA (8:00) | dir. Briana Noble. prod. Free Spirit Media
Exploring the hip hop community through the lens of an African American woman.
LADY RAZORBACKS – EMPOWERMENT AWARD
USA (4:07) | dir. Laura Green
When a group of Pacific Islander women struggle to start a rugby team in East Palo Alto, they find the field to be an unexpected sanctuary.
HUMAN RIGHTS ARE FOR EVERYONE! – KNOWLEDGE IS POWER AWARD
USA (2:52) | prod. Wide Angle Media
What are human rights and why are they important?
Stories of TRUST: Calling for Climate Recovery – CHANGEMAKER AWARD
USA (6:49) | prods. WITNESS, Our Children's Trust & iMatter: Kids vs. Global Warming Protect our TRUST. Restore our Atmosphere.