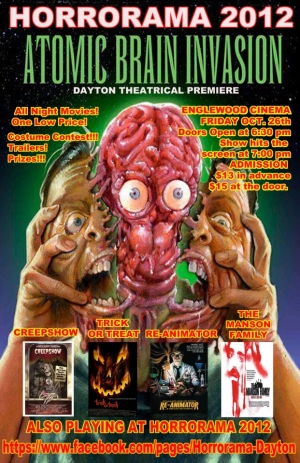 Horroama 2012
promises to thrill you and chill you with these fabulous films:
Atomic Brain Invasion (2010) *Dayton Theatrical Premiere*
Creepshow (1982)
Trick or Treat (1986)
Re-Animator (1985)
The Manson Family (2003)
Plus the usual fun between films: costume and scream contests, raffles, prizes and more.
A note to parents: our earlier films are designed to be more family friendly, but please use your own discretion when bringing children to this event.
Tickets: $13 in advance (available at Englewood Cinema, GameSwap in Kettering, and Foy's on weekend evenings) or $15 at the door.
Doors open at 6:30pm, films begin at 7pm. It's over when the credits roll on the last film. More info here.