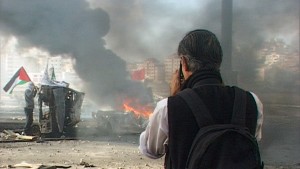 FilmDayton is pleased to share information on this great event co-hosted by board member, Steven Bognar.
The University of Dayton's ArtStreet Friday Film Series presents…
'War Photographer'
Hosted by Steven Bognar and Andy Valeri
Friday, February 15th, 8pm
University of Dayton's ArtStreet Studio B
The public is invited to a free screening of the film 'War Photographer,' one of the most engaging and revealing films on the role of the photo journalist, and how conflict and human suffering are depicted in the media.
Produced and directed by Christian Frei, the film explores the life and meaning of the work of James Nachtwey, and iconic figure in the field of war photography,
Winning a 2003 Peabody Award, the film was nominated for an Academy Award in 2002 and an Emmy Award in 2004. It has also received or been nominated for more than 40 other awards internationally.
The film is being presented as part of the University of Dayton's ArtStreet Friday Film Series.
Hosting the event will be acclaimed filmmaker Steven Bognar, and media producer and activist Andy Valeri, whose work at the University of Dayton has been focused on the use of media and art within a human rights context.
* ISSUES RAISED BY THE FILM *
How do human rights issues find a voice in a market-driven information system? Where is the line between witness and voyeur, and how does a photographer or journalist define and understand that line?
As magazine editor and friend of Nachtwey's Christiane Breustedt asked…'Do I make a living from other people's suffering? Has their suffering and misery been my ladder to success? Do I exploit people? [Am I] the vampire with the camera?'
Do images convey the truth or distort it?
Does the exposure to the images, the statistics, the grief, the fear and even horror of things, create a numbed apathy, making such exposure part of the problem? Or does remaining ignorant of these events allow them to keep happening? Can media and photography be an antidote to war?
These are just some of the questions which the film explores.
There will be an opportunity for dialogue and discussion regarding the film and the important issues that it raises both before and after the film.
* WHEN and WHERE *
FRIDAY, FEB. 15
Event begins at 8pm
Free Admission
(Seating is limited, however, so first come first served)
ArtStreet Studio B
University of Dayton
Kiefaber St, Dayton, OH 45469
(937) 229-5101
For more information and directions…
http://www.udayton.edu/artstreet/
STEVEN BOGNAR is a Dayton-based filmmaker, whose work has garnered him an Emmy Award and Oscar nomination. He currently teaches filmmaking at Wright State University, and his most recent media work includes the 'Reinvention Stories' project, which is part of the national Localore initiative, being produced through WYSO public radio.
ANDY VALERI is a long-time veteran of community and independent media, and is an advocate and activist for a more accessible and transparent media system. He holds a masters degree from the University of Dayton in an originally-designed program in Media, Communication and Human Rights, the first of its kind at the university. He is the producer of the television program and website UnCommon Sense TV Media.
* MORE ABOUT THE FILM *
'War Photographer' – Movie Trailer
Official Film Website
http://www.war-photographer.com/
James Nachtwey…
'It's occurred to me that if everyone could be there just once, to see for themselves what white phosphorous does to the face of a child, or what unspeakable pain is caused by the impact of a single bullet, or how a jagged piece of shrapnel can rip someone's leg off; If everyone could be there to see for themselves the fear and the grief just one time, then they would understand that nothing is worth letting things get to the point where that happens to even one person, let alone thousands.'
'This film is an act of spiritual faith – an eloquent, deeply felt meditation on the nature of compassion.'
– Edward Guthmann, The San Francisco Chronicle
'Frei assembles a fascinating profile of a deeply humanistic artist who, in spite of all that he's witnessed, remains surprisingly idealistic, and retains an extraordinary faith in the ability of images to communicate the truth of the world around him.'
– Ken Fox, TV Guide Movie Guide
'[Nachtwey] has been photographing the globe's worst hot spots for 25 years and has probably seen up close more grief and ruination than anybody should have to see in a dozen lifetimes, and yet he still believes he's making a difference. He regards his photographs as an antidote to war, and himself as an antiwar photographer. (…) Nachtwey clears the cynicism right out of you. He makes you realize that deep inside righteousness can be found a tough beauty.
– Peter Rainer, New York Magazine
'Advertisers are tired of having their products displayed next to images of human tragedy. They feel that it somehow detracts from the saleability of their products.'
– James Nachtwey
'Why photograph war? Is it possible to put an end to human behavior that has existed throughout history by means of photography?  The proportions of that notion seem ridiculously out of balance. Yet that very idea has motivated me.'
– James Nachtwey