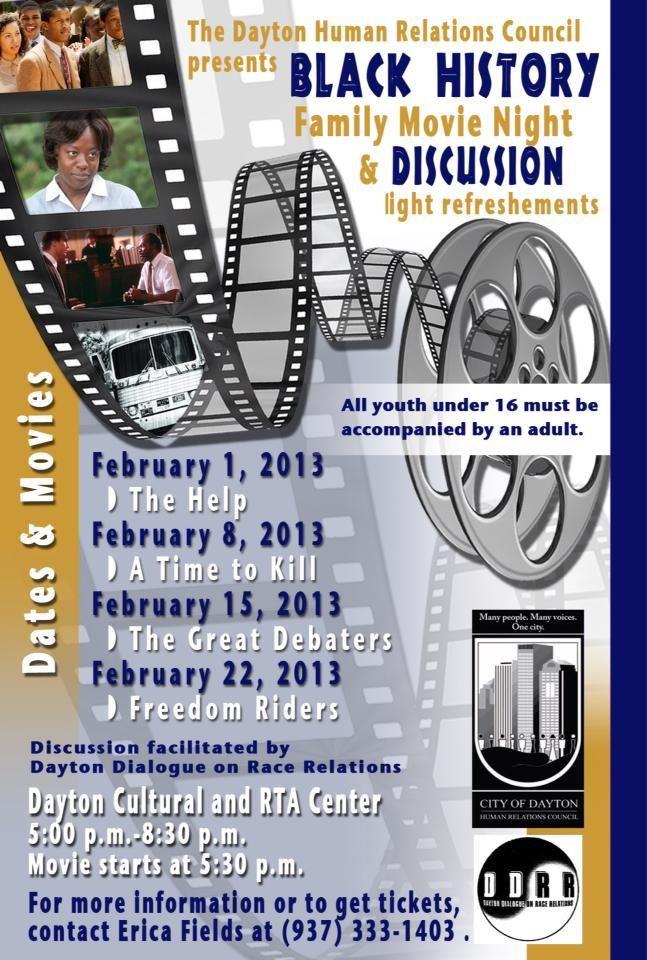 The City of Dayton Human Relations Council was a great partner with the 2012 FilmDayton Festival – helping us present the collection of international shorts from Madrina Films asking our audiences "What does it mean to belong?" Now – they are hosting their own film series for Black History Month. Check out the information below for how to get your free tickets to this family movie night and discussion series.
In commemoration of Black History Month, the Dayton Human Relations Council will host free movies and discussions to offer insight into the struggles and successes of African‐Americans.
The educational event, geared towards families, is an opportunity to share the history, accomplishments, and triumphs of black American culture. The movie night activities will be held every Friday in February, from 5:00 p.m. to 8:30 p.m. at the Dayton Cultural and RTA Center, 40 S. Edwin C. Moses Blvd. Free parking is available.
The films to be presented are "The Help" (Feb. 1), "A Time to Kill" (Feb. 8), "The Great Debaters" (Feb. 15), and "Freedom Riders" (Feb. 22). Tickets are required and are available for pick‐up starting the Monday before each screening at the Human Relations Council (371 W. Second St., Suite 100, 8:00 a.m. to 5:00 p.m.).
Staff from the Dayton Dialogue on Race Relations, a community initiative whose primary goal is to implement a process of  ealing race relations by utilizing dialogue to foster reconciliation through honest conversation, understanding and action, will facilitate conversations of the racial assumptions discussed in the movies following each film.
The Dayton City Commission established the Human Relations Council in 1962 to promote a culture of and ensure fair treatment and equal access to opportunities for all who live, work, play and gather in the City of Dayton. The Council provides civil rights
enforcement, business and technical assistance, and administers community relations programs.