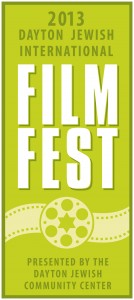 2013 Dayton Jewish International Film Festival
JOIN US FOR OUR BAR MITZVAH YEAR!!
The DJCC Proudly Presents the Thirteenth Dayton Jewish International Film Festival
April 18 – May 9
You can see the full brochure online now!
Whereas the FilmDayton Festival packs an entire weekend with great films, workshops and experiences, the Dayton Jewish International Film Fest lets you take in great films over many weeks in multiple venues. This year, documentaries and features both in English and with subtitles demonstrate a wide range of subjects. All connected to Jewish heritage, but all tackling universal themes such as friendship, love, jealousy, dance, religion, war and more.
 Thursday, April 18 – 7pm reception, 7:30pm film – The Neon
~ The Other Son ~
Sunday, April 21 – 3pm – The Neon
~ My Best Enemy ~
Tuesday, April 23 – 7:15pm – The Neon
~ Melting Away ~
Thursday, April 25 – 7:15pm – The Neon
~ Nicky's Family ~
Monday, April 29 – 7pm – Antioch Midwest
~ The Other Son ~
Tuesday, April 30 – 7:15pm – The Neon
~ Naomi ~
Thursday, May 2 – 7:15pm – The Neon
~ Lea & Daria ~
Sunday, May 5 – 2pm – Center for Jewish Culture and Education
~ Hava Nagila (The Movie) ~
Tuesday, May 7 – 9:30am coffee, 10am film – The Neon
~ Torn ~
Tuesday, May 7 – 7pm – Antioch Midwest
~ Nicky's Family ~
Thursday, May 9 – 7:15pm – The Neon
~ A Bottle In the Gaza Sea ~