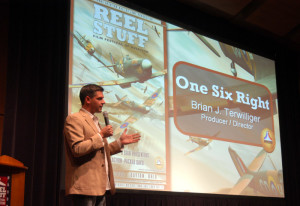 The Air Force Museum is hosting its first Reel Stuff Film Festival in celebration of the grand re-opening of their theater. Daytonian Ron Kaplan is the creator of the Reel Stuff Film Fest – a celebration of all things aviation – and he is excited to bring this nationally touring festival back home.
The First Annual Reel Stuff of Aviation offers a diverse lineup of flight-related feature films, documentaries, and broadcast programming, each presented by a filmmaker or historian closely associated with its production.  An audience question-and-answer session with the filmmaker will follow each showing, offering a unique interactive educational opportunity for fans of filmmaking and of aviation history, alike.
Kicking off the festivities will be a screening of the Emmy-award winning film THE RESTORERS by Wright State alum Adam White. WINGS, MEMPHIS BELLE, and the 3D release of TOP GUN are also included in the line-up (among others). Scheduled films and prices are available now online.
Patrons of Reel Stuff Film Festival will be among the very first to enjoy a new state-of-the-art theatre experience featuring a digital image projection system, an amped up 7.1 surround sound system with 20 speakers, and a towering new s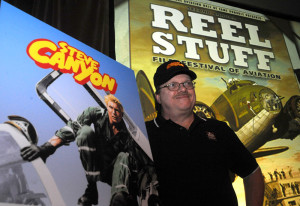 ix-story screen.  One of only a handful of theatres nationwide with this new technology, other improvements festival goers will notice include new seats, carpeting and a presentation stage ideal for Reel Stuff's interactive screening format.
"We've put together an unforgettable weekend, not only for aviation buffs and students of history, but also anyone who loves the art of the cinema or is fascinated by learning the technical, 'behind-the-scenes' aspect of filmmaking," said Mary Bruggeman, Chief of Theatre Operations for the AFMF.  "It's a rare opportunity to meet and mingle with the talented filmmakers responsible for some of our favorite aviation movies, and get a sneak-peak at some new projects being shared for the first time."