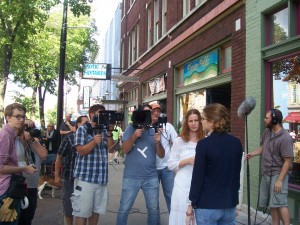 Does Dayton talent have the chops for production? Are we a film city? FilmDayton believes the answer is a resounding YES and the original Web series "Freak Club" (shot on location last summer) proves just that.
From the early days when local writers pitched story ideas – to a great pre-production team that scouted locations, created props and determined casting – to the exciting three weeks of on-location shooting that filled the streets of our city with production: it's been a local endeavor! Now we're picture locked and ready to take the last step before release – and we need your help!
Let's keep showcasing regional talent – we're looking for musicians who want to hear their original compositions as the closing credits roll. Submit your original song for consideration!
Wondering what the 'feel' is? Here's the opening credits!
The story showcases a pair of students and their 'freakish' friends as they learn more about their supernatural surroundings and navigate life at a Dayton high school. It's X-Files with a Mean Girls twist! The closing music can play on any or all of that! Instrumental, vocal, upbeat or eery – it all fits! Want more details – check out the episode summaries below.
Details:
Song should be 2 minutes in length or able to be cut to 2 minutes. Submitted songs should not exceed 4 minutes (producer may select appropriate 2 minute section if song is selected). You must fill out the Contest Form to submit and songs will not be considered without a signed form. As this was a volunteer project, there is no pay, but musicians will be credited. Musicians are limited to two (2) entries each; there is no entry fee. Submission deadline: April 22, 2013.
Submit via email to freakmusic@worldstagemedia.com with the Contest Form for End Music and your song. Subject line: Freak Club Closing Credits.
Mail a printed copy of the form and a CD to: FilmDayton: 22 E. Fifth Street, Dayton, OH  45402  RE: Freak Club Closing Credits  (CDs will not be returned unless a SASE is included)
Check out the great opening credits!
Series Summary:
Seventeen-year-old Oliv Turner is Bombeck High School's social media sensation and resident "mean girl" – until nightly visits from beyond throw her perfect world out of whack. With her throne on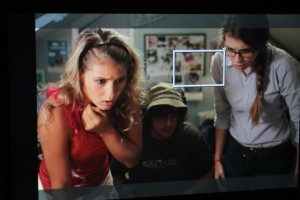 the line, Oliv seeks help from social misfits Morgan Green and Baxter Kingsley of the Dayton Paranormal Society, better known as "Freak Club." Meanwhile, Freak Club builds its membership: An agoraphobic British ex-militant and celebrity ufologist, a spooky voodoo priest, an angel-obsessed art teacher with a secret, and a surprise or two.
Episode Summaries:
Episode 1:
Oliv tries to make sense of whatever dark entity haunts her bedroom, while Morgan and Baxter experience a close encounter of the Mean Girl kind.
Episode 2:
Morgan discovers that her neighbor is an alien who digs extraterrestrials; Oliv seeks help for her paranormal woes in an unlikely place.
Episode 3
: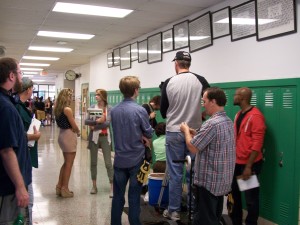 Morgan alienates her ornery ufologist neighbor, while Baxter reluctantly embraces his inner ghost hunter for one terrified popular girl.
Episode 4:
Freak Club discovers some odd found footage on Baxter's camera; Morgan surprises Oliv with a trip to to the local voodoo shop.
Episode 5:
Oliv rushes out of Juju freaked out of her mind; meanwhile, Bombeck High has an angelic new art teacher.
Episode 6:
Oliv goes to Baxter for one more try at getting rid of the shadow man, while Rosie the art teacher has an unlikely reaction to a little art room vandalism.