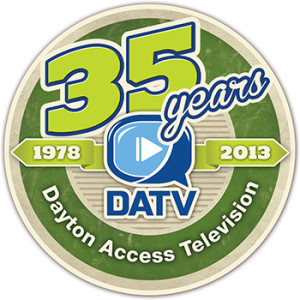 Our partners at DATV are celebrating their 35th anniversary this year! They've put together a wonderful article on the history of their station and work in the community.
In 1978 Americans were going to the movies to see John Travolta and Olivia Newton-John in "Grease." A peanut farmer from Plains, Georgia named Jimmy Carter was the President. And future NBA star Kobe Bryant was born.

Another significant day that year was

March 1st, 1978, when DATV, then Access-30-Dayton, began cablecasting on Viacom cable in the City of Dayton.

At that time cable television was in its infancy and many different types of programming

ideas were beginning to form. It wasn't even until the next year on September 7th, 1979 that another network with the then crazy idea of 24 hour sports programming named ESPN was born.

Access television would be unique, not meant to compete directly with commercial television, but to serve as a community forum and public gathering place on TV where views could be expressed, ideas exchanged and local information communicated to viewers….

The idea of "Access" television in Dayton began  in 1977.  When Roxie Cole had the foresight and a grant from the Ohio Board of Regent to help create DATV (Dayton Access Television). The staff consisted of one, Cole, and the budget was $39,000 in cash and $50,000 worth of television equipment….

Happy Anniversary to our friends and partners at DATV!