On May 18-19, eleven aspiring filmmakers joined FilmDayton instructors at DATV for an intensive introduction to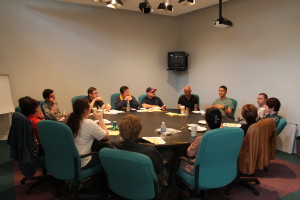 filmmaking. They experienced a mini-film school with workshops in visual style, writing, production techniques and editing. Over the course of just two days, they took this information and created their own short films.
Thanks to DATV for hosting us and our instructors Alvoro Leite, Christopher Tung and Robert DelVecchio.
Now, their creations are available on the FilmDayton YouTube page. Check out the work of the newest filmmakers in our community!
Some photos from the event.
The short films: 30 Minutes for Lunch, Passing Notes, Deadline.