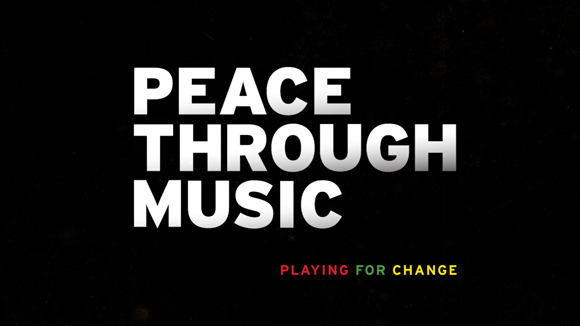 FilmDayton members Michael & Sandy Bashaw, in collaboration with Cityfolk and PLAYING FOR CHANGE are pleased to announce the completion and release of a music video entitled, "PLAYING FOR CHANGE, DAYTON" which will premier in Dayton on June 30, 2013.
"PLAYING FOR CHANGE is a multimedia movement created to inspire, connect, and bring peace to the world through music. The idea for this project arose from a common belief that music has the power to break down boundaries and overcome distances between people. No matter whether people come from different geographic, political, economic, spiritual or ideological backgrounds, music has the universal power to transcend and unite us as one human race."  http://playingforchange.com/journey/introduction.
City of Dayton created Welcome Dayton-Immigrant Friendly City in October 2011. The "thrust of the Welcome Dayton plan recommendations focus on breaking down language and communication barriers and helping to bridge the cultural differences that naturally exist among diverse groups of people." The Bashaws produced the PLAYING FOR CHANGE, DAYTON music video which correlates with this initiative, and exemplifies inter-cultural musical collaboration.
The PLAYING FOR CHANGE, DAYTON music video was produced by musicians Michael & Sandy Bashaw along with filmmaker David Sherman and recording engineer Tim Berger.  The video will premiere at the Cityfolk Festival in Dayton, OH on Sunday, June 30 and will coincide with the concert performance of the PLAYING FOR CHANGE, DAYTON Band on the main stage at 1:00 p.m.  Many of those in the video will play at the concert performance.
PLAYING FOR CHANGE DAYTON, music video includes:
PUZZLE OF LIGHT – Michael Bashaw, Sandy Bashaw, John Taylor, Erich Reith, Dick Roll;  SHOEFLY – Rick Good, Sharon Leahy; POUROVER: Dennis Rotterman, Lee Rotterman, Keith Wimberly; SEEFARI: Tom Carroll; INDIVIDUAL ARTISTS: Gina Stough  Amber Knicole, Frank Dixon, Michael Kotur, Jay Martinez, Raymond Roach, Erich Lamboy, Edwin Corporan; BURUNDI ROYAL COURT DRUMMERS; DACA Tai Chi and Dance Group
At the same time as the premier, the PLAYING FOR CHANGE video will be posted on the PLAYING FOR CHANGE website and on Youtube.
See the video here: