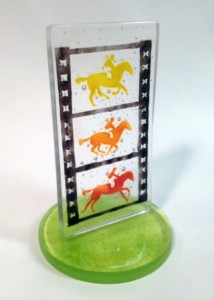 There's no way to pick the best of the 2013 FilmDayton Festival! Full houses, engaging filmmakers, fascinating workshops, student showcases, radio stories, perfecting pitches, and great parties. Truly something for everyone.
For most of it, if you missed out we can't bring it back. But you can see each each tribute video from the FilmDayton Awards. Created by local filmmakers in honor of artists from our own backyard who have impacted the film community through innovation, service, education and filmmaking.
Thanks to Susan Cannon who created the beautiful award reminiscent of the Muybridge horse, to the team who created such a beautiful program (emcee Dr. Nicole Richter and video producers Trinity Film Group, Peter Wine and Henrique Couto) and the great audience that showed an outpouring of support and celebration for Andy Copp, the Levin Family and Jud Yalkut (see below for tribute videos).
We're also pleased to announce the winners of audience favorite from the shorts blocks:
Flick My Clip: "Street Cred" by Zach Sherwin
Friday Night Fright: "Cold Turkey" by Fannar Thor Arnarsson
Shorts Block I: "'Til Death" by Jason Tostevin
Shorts Block II: "Es Geht Nichts Verloren (Nothing Lost)" by Keti Vaitonis