FilmDayton announced street closures and anticipated traffic delays for Thursday, November 7, 2013. This street closure is in facilitated and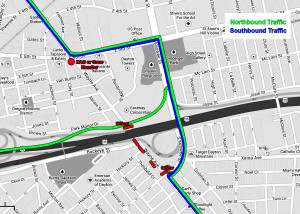 approved by the City of Dayton Police Department in conjunction with the filming for the movie WE'RE DOING FINE.
On Thursday, November 7 from 8PM – 2AM, Wayne Avenue between S. Keowee Street and Buckeye St. will have vehicular closures due to movie filming. Traffic will be blocked for up to an hour at a time with periodic intervals to allow traffic through. For the best thru-traffic pattern, motorists should utilize the alternate route of Keowee Street. Pedestrians will be able to cross on the west sidewalk.
The filming zone includes blockades at Buckeye Street, Hickory Street and Bradford Street at Wayne Avenue. A notification of the closure welcoming local traffic only will be placed at E. Fifth Street at Wayne Avenue. Wayne Avenue will remain open between 5th Street and the on-ramp to 35 East (south of Bainbridge/North of Buckeye) to accommodate visitors to area businesses and restaurants.
Barricades will be in place and motorists can expect delays in this area. See the attached map for details and recommended alternate routes.