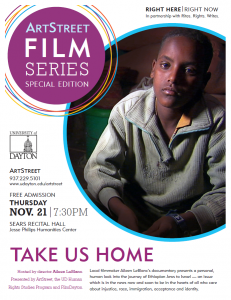 Click here for info
The University of Dayton invites the Dayton community and FilmDayton members to a special screening of a recently released documentary by local filmmaker Aileen LeBlanc, Take Us Home, this Thursday, 7:30 pm, Sears Recital Hall (Humanities Building).
Take Us Home presents a personal, human look into the journey of Ethiopian Jews to Israel and sparks deep questions about justice, race, immigration, and identity. Following the screening Aileen LeBlanc will join Theo Majka and Mark Ensalaco for a panel discussion about the film. Refreshments will be served. Thursday's event is sponsored by ArtStreet, the Human Rights Studies Program, and FilmDayton.
ArtStreet hosts the Friday Film Series – showcasing cutting edge, contemporary and classic films that focus on universal themes and include post-screening discussions with special guests.