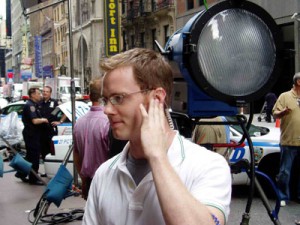 The New York Assistant Director Training Program is designed to provide opportunities for a limited number of individuals to become Assistant Directors in Film, Film Television & Commercial production. This is a two year program consisting of up to 350 days of on-the-job training combined with seminars and special assignments. A rotation system places Trainees on the sets of various features, television series and commercials shooting primarily in the New York City vicinity. There they work under the supervision of DGA members – Second Assistant Directors, First Assistant Directors and Unit Production Managers until graduation. Upon completion of the program, graduates are qualified to join the DGA (Directors Guild of America) as Second Assistant Directors.
Each year, the DGA Assistant Director Training Program accepts a limited number of applicants into the Program. The number is determined by the employment outlook for the coming year in the motion picture industry in NY.
On average, the Program receives between 300 – 350 applications from individuals from around the country. Of that total, between 5-7 candidates will be accepted.
Trainees come from all walks of life. Some are recent college graduates, others have more life/work experience and are looking to make a career change. There are Trainees who have had some film experience, other have never been on a film set before.
Applicants must be US citizens or permanent residents. A four year college degree and some industry experience is recommended but not essential.
A formal APPLICATION must be submitted in order to participate in the selection process.
2015 Application Process for Film/Film TV Program

PHASE I: ON LINE TESTING
Administered by an independent assessment organization, the exam consists of a battery of tests designed to evaluate problem solving skills, interpersonal orientation, verbal ability and critical thinking. The exam is conducted on line once a year.
PHASE II: IN DEPTH INTERVIEW
Those candidates that rate highest on the written exam will be scheduled for an in person one on one interview with our assessment consultants. This interview is approximately 1/2 hour in duration.
PHASE III: INTERVIEW BEFORE THE PROGRAM'S BOARD OF TRUSTEES
There are generally 20 candidates chosen during Phase II to interview before the Board. The Board consists of representatives of the DGA & it's membership and Commercial & Motion Picture Producers.
Application Deadline: December 2nd, 2014
(Phase I) On Line Exam February 7th, 2015
(Phase II) Preliminary Interviews March-April 2015 (scheduled individually)
(Phase III) Final Interviews May 2015
Applications can also be requested through regular mail by calling (212)-397-0930.