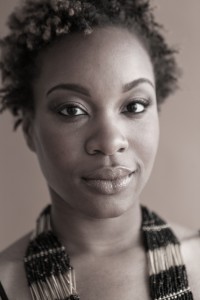 Chinonye Chukwu
Tuesday October 28 is our next FilmConnections.
FilmDayton is pleased to welcome our featured speaker for the month, Chinonye Chukwu!
Before you take the leap into making your first feature film, there's a lot you can learn and gain from creating a short film. Learn about a ton of festival, grant and fellowship opportunties you can submit to with your short film and how to use your short film to attract potential actors and/or financiers for your feature film.
Chinonye is Assistant Professor of Film Production at Wright State University, where she teaches courses in screenwriting and directing in the Motion Pictures Program of the Department of Theatre, Dance and Motion Pictures. She is a recipient of the prestigious Princess Grace Award and Princeton Hodder Fellowship. Her debut feature film, AlaskaLand, has been selected to screen globally, including the Chicago International Film Festival and the New York African Festival at Lincoln Center. The film has been released by New World Distribution and is currently available on iTunes, VOD and other digital and broadcast platforms. Chinonye's short film, The Dance Lesson, premiered at the Ritz Theater of Philadelphia and was later licensed by mindTV for regional network distribution. The film was also a Regional Finalist for the 2010 Academy of Motion Picture Arts and Sciences Student Academy Awards. Currently, Chinonye has just completed her next project, entitled A Long Walk. The film is a short adaptation of the anthologized story, "A Walk Through the Neighborhood", and is partially funded by a $27,000 Special Projects Grant from the Princess Grace Foundation-USA. The film continues to thrive on the festival circuit, winning a Special Jury prize at the USA Festival and screening at several Academy Award Qualifying festivals, including: the Cleveland International Film Festival, Florida Film Festival, Athens International Film and Video Festival and the Rhode Island International Film Festival.
FilmConnections is a monthly event that serves as a networking mixer for the regional film and television industry.
Each month a featured speaker will offer insight and inspiration on a variety of film and related topics.
Time is also set aside for announcements of local events and a break for light snacks and networking.
FilmConnections meets the last Tuesday of every month at the ThinkTv studios located at 110 Jefferson Street in downtown Dayton, with parking on the street. (meters are free in the evenings.)
FilmDayton members: Free.
Not-yet FilmDayton members, $5.00 at the door.
You can sign up to become a member or renew your membership at the door! Ask our door person for membership info or check us out at FilmDayton.com prior to the meeting.
Contact:
FilmDayton.director@gmail.com
Facebook.com/FilmDayton
937-554-0031
Shelly Hulce, Executive Director