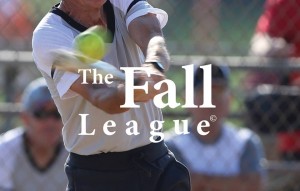 Debut film by Tim Gebard and Jennifer Taylor Opens At The Neon, March 8th.
We got to meet first time filmmakers Tim Gebard and Jennifer Taylor when they gave us an exclusive sneak peek of their debut film during our FilmConnections in November of 2014.
The Fall League is a movie about seniors, softball and life. This heart-warming documentary captures the story of a Dayton senior league, but it goes much further, exploring the impact of the sport in regard to family relationships, the bonding and camaraderie between players, and topics of aging that are necessary considerations for active seniors.
The Fall League is the first full-length documentary film for Taller Trees Productions, a Dayton production company. The production team is headed by Tim Gebard (producer), Jennifer Taylor (director) and Dean Vincent (co-producer). The film also features an award-winning original motion picture soundtrack, written by Gebard and recorded at Studio D in New Carlisle with Dayton-area musicians.
This film has been recognized by the ISFF Experience and will be screened at the Toronto-based film festival on April 25th, 2015. In addition, the movie will be screened at Louisville's International Festival of Film in October 2015.
Sunday March 8
3:00PM
Tickets are $7.00. Pre-sale tickets are available at The Neon box office.
For more information about the film and crew, and to view the trailer, please visit www.TheFallLeague.com.
For more information on The Neon theater, please visit http://www.neonmovies.com/