This month we'll explore what it's like to be in front of the camera and how to increase your chances of getting cast as an extra.
David J Gewertz received his BFA in motion picture production from Wright State University.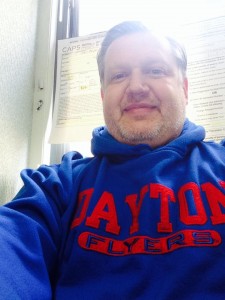 His senior thesis film Over Drinks, was a winner at the 1996 Indiana Film Festival.
After graduating he moved to LA and found work in front of the camera as an actor and stand in for such stars as Jack Black and Jason Alexander. Between stand in gigs David also was a background actor on such films as The Wedding Singer, Old School, and Starship Troopers.
In 2008 David relocated back to Dayton, and has found work in casting and working with the background actors on Carol, I am Wrath and recently on the film Goat.
FilmConnections meets the last Tuesday of every month at the ThinkTv studios located at 110 Jefferson Street in downtown Dayton, with parking on the street. (meters are free in the evenings.)
FilmDayton members: Free.
Not-yet FilmDayton members, $5.00 at the door.

You can sign up to become a member or renew your membership at the door! Ask our door person for membership info or check us out at FilmDayton.com prior to the meeting.