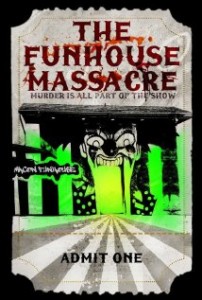 The low budget independent horror movie that filmed at Land of Illusion Studios and Backlot this past April and May has just released their trailer. "The Funhouse Massacre" features actors Clint Howard and Robert Englund, who played the fictional serial killer Freddy Krueger in the "Nightmare on Elm Street" film series. Mark Ott, GM for the Middletown studio shared with us that he's currently in LA, and very excited that  he'll be seeing the film for the first time on Halloween.  He also mentioned that he's taking some meetings and talking with some other productions while he's there.
The film, directed by Andy Palmer, made its world premiere last month at HorrorHound in Indianapolis, where it won both Best Feature and Best Special Effects for Robert Kurtzman, known for his work on "It Follows," "Scream" and "Army of Darkness."
The story involves a group of escaped serial killers who descend on a giant funhouse on Halloween and begin creating carnage. The only people left to stop them are a ragtag group of college kids, a clueless deputy and the local sheriff. According to Variety AMC Independent has scheduled a Nov. 13 ththeatrical release in up to 20 markets for the horror-comedy. This film has not been rated yet.