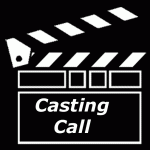 **Seeking one female actor or model short experimental film.
Non-union and union actors, unpaid but can provide lunch, gas money and essentials, this film is available to be used for demo reel or any use of the actors within reason.
I am a CCAD Cinematic arts major, and creative writing minor. This short, 3-5 minutes, film is my Final project for Experimental film class.
Experimental film project, "Installation", a production in the fall semester 2015, for CCAD Experimental Video class Directed by Teontey Poole.
Auditions will be held on Campus of Columbus College of Art and Design. More information will be given if chosen for the listed roles.
Filming locations are within downtown Columbus, Ohio area. About one to three days shoot days within the next two weeks.
**Logline: A woman very genuinely acts out the role of an ambiguous character who, for the audience pleasure, could be convey as warm like a best friend, sister, lover etc. A very friendly and inviting role for display.
**Roles: Girl – Female character: Age, looks 18-25. Warm/friendly role.
**If interested, please contact team writer and director at tpoole.1@go.ccad.edu or 419-701-9515. ***
Please provide: A head shot, demo real, and contact information.