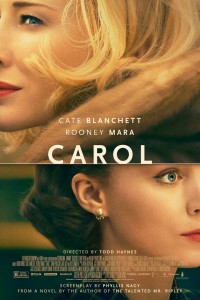 CAROL, the new critically-acclaimed film from director Todd Haynes – starring Cate Blanchett & Rooney Mara, is set to open on Friday, January 8 at THE NEON in Downtown Dayton.
CAROL, based on the novel THE PRICE OF SALT by Patricia Highsmith, is a love story set in 1950s New York. "A young woman in her 20s, Therese Belivet (Rooney Mara), is a clerk working in a Manhattan department store and dreaming of a more fulfilling life when she meets Carol (Cate Blanchett), an alluring woman trapped in a loveless, convenient marriage. As an immediate connection sparks between them, the innocence of their first encounter dims and their connection deepens. While Carol breaks free from the confines of marriage, her husband (Kyle Chandler) threatens her competence as a mother when Carol's involvement with Therese comes to light." (The Weinstein Company)
After pre-production in the winter months of 2014, the film shot in Cincinnati from March until early May. Several Daytonians worked as crew on the film, and even more were used as extras. The finished film eventually went on to premiere at the Cannes Film Festival in the spring of 2015. Since then, it has screened at numerous festivals around the world to great reception from critics and audiences alike. "Not only is this film garnering major awards, which will help build the resumes of locals who worked on the film, but over $400,000 was spent on venders and employees in Montgomery County, proving that film is economic development for our region", shared Lisa Grigsby, FIlmDayton Director.
THE NEW YORK TIMES, THE LOS ANGELES TIMES, SAN FRANCISCO CHRONICLE, VARIETY, ROLLING STONE, BOSTON GLOBE, WASHINGTON POST and numerous other periodicals/critics have given the film a 100% review.* The film has already won awards around the world, and it was recently nominated for 5 Golden Globes, including "Best Picture."
Though the film doesn't officially open until January 8, THE NEON has scheduled a special preview screening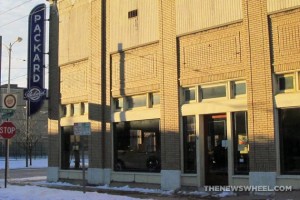 of CAROL on Thursday, January 7 at 7:30.  After the screening, attendees will be invited to join in on a special toast to all the local connections who participated in the making of the film.  You'll see credits for Wright State Motion Pictures alumni Karri O'Reilly (unit production manager), Vanessa O'Kelley (set dresser), Alex Esber (first assistant camera: "b" camera), Selena Burks-Rentschler (Accounting Clerk).  Other locals  on the crew included:
Jaclyn Laravie (wardrobe), Anne Taylor (Makeup),Laura Dennings (Asst Props), David J. Getz (background wrangler), Scott Lipez (Rigging Gaffer), Amy Faust (1st AC – additional), Mike Ditticur (Grip), Chance Madison (BB Rigging Grip), Adam White (steadicam), Brock Komon (wardrobe PA), Kasey Faye (PA), Nathan Hippenmeyer (Locations PA), Alex Maxwell (PA), Nick Rollins (PA), Randy Miller (PA), Eric Risher (Locations PA).
This small reception will take place at America's Packard Museum – just a few blocks away from THE NEON – where the 1948 Packard Custom Victoria Convertible driven by Blanchett in the film is on display.  This reception is being hosted by THE NEON, America's Packard Museum & FilmDayton!  Tickets are now on sale at THE NEON's box office – regular ticket prices apply.
THE NEON will feature a handful of props from the film during its engagement, and the Packard Convertible will make appearances during opening weekend (weather permitting).
THE NEON is located at 130 E. 5th Street in downtown Dayton.  For more information visit THE NEON's website at www.neonmovies.com or call the showline at (937)222-SHOW.