Kathleen Hartshorn:
The creative, community outreach leader, wife, mom to the cutest three-legged dog named Guinness and production manager/producer extraordinaire continues to be a part of the elevation of Dayton.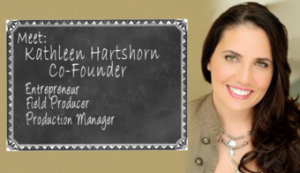 Cincinnati native, Kathleen (Hall) Hartshorn spent her youth on set with her mother and loved to produce her own commercials as a child before earning her degree in Electronic Media from the University of Cincinnati's Conservatory of Music. Since college, Kathleen spent a few years in L.A. before transplanting to Dayton, Ohio. Kathleen wears many hats. She and her husband Wesley run Physis Films, Physis Living, where they take part in the revitalization of Dayton and are partners at Nucleus Co-Share, a work co-share located in the heart of the Oregon District.
Kathleen moved around Cincinnati quite a bit as a child but spent most of her educational years in the Mariemont school district. Growing up she was a competitive baton twirler and eventually represented the University of Cincinnati's Bearcat Marching band where she studied Electronic Media. Kathleen highly encourages aspiring TV/Filmmakers to check out the E-media program offered through UC's Conservatory of Music.
"I actually grew up in the TV and Film World because my mom was a voice over talent and commercial producer." Kathleen says, "Being a single mom she would often take me on set, so the crew taught me quite a bit about production, that's when I knew that this where I wanted to be.
 
Throughout college, Kathleen worked for ESPN as a utility PA, while also assisting with local crewing and talent. Once she graduated from UC she was invited to tour with ESPN's Monday Night Football and College Football as utility. She worked with production, assisting with talent. Kathleen loved getting work along side football legends like Lou Holtz.  She shares one of her favorite projects, where she worked as a location scout and Field Producer for this piece on the Cincinnati Bengals.
Once football season was over she decided to move out to L.A. While in Cali,  Kathleen had the opportunity to work with P.I.C., an agency that creates main titles for feature films such as Sex and the City: The Movie; Twilight and Hancock. While at P.I.C. she got to work on projects with Catherine Hardwicke and Kanye West. Kathleen also worked with Studio City a promotional production company that creates promotional commercials for talk shows like; The Ellen Degeneres Show; Live with Regis & Kelly and The Bonnie Hunt Show. She worked on a few reality shows like Rock of Love: Bus Tour and For the Love of Ray J with 51 Minds as a logger.
Check out this video from a show she pitched:
"The cost of living in Dayton is so affordable!" Kathleen exclaims, "Live here for next to nothing and travel the world!" "Dayton will always be my home base."
Kathleen chose to move back to Ohio and work freelance here in Dayton  so she could spend time with her husband Wesley and their dog Guinness. She values quality of life over quantity; especially if it doesn't follow her core values.
According to Kathleen, Los Angeles does have more consistent work and people are always producing something, somewhere. However, you have to really love what you're doing because working 50+ hours in a week is not easy. She values her time. So if she is going to work a 50+ hour week, it will be on a project she is passionate about.
"Why Dayton? The economic advantage based on the geographical position is why. It's almost silly to want to live anywhere else. The beauty with Dayton is its people. We have the opportunity to be creative with what we want to do for a living. The people in this community support and inspire one another. It is truly unlike any place I have ever lived. There is so much passion in this city. I love seeing it grow."
The importance of her job is to build relationships with others who work in the industry so when it comes to crewing up on a low budget they are more willing to work with her. This means that when it comes to pre-production she must work to ensure set days run smoothly. She is the point of contact for crew and cast. She puts out fires before they start and is always ready for plan B, C or D (depending on the day). Needless to say, she gets a lot of frantic emails and phone calls. Don't let her fool you, she has grown to love pre-production. Nothing makes her happier than seeing a well run set due to her mad pre-production skills.
"One reason why I love working in TV and film" Kathleen says and laughs, "is that everyday is completely different."
"My work flow changes [from] week to week. Usually, when crews come to Ohio they hire locally last minute. This past week I worked with Divided Films on America Divided which is a docu-series about the inequalities in America. This specific episode will showcase the heroine epidemic hitting Montgomery County. I am also working on pre-production for a feature film that will possibly film this fall and a week of comedic shorts set to film in a few weeks. Pre-production takes up most of my work-week. Most people hate it, but I have grown to love it!"
Kathleen also volunteers for FilmDayton and is currently curating our last Tuesday of the month Film Connections. This monthly event Film offers tips and hints to strengthen skills, critical perspectives on film genres, screenings of films connected to local filmmakers or networking among aspiring and professional filmmakers.
For more on Kathleen:

Check out this story from Dayton Monthly:
Another Reel
Local independent filmmakers are hard at work to produce quality films.
As time goes by, shooting a video can be as easy as taking out one's iPhone and pushing the record button. There was even an iPhone movie at the Sundance Film Festival, but husband and wife team Wes and Kathleen Hartshorn prefer to use higher-grade equipment, like a DSLR camera.
"Filmmaking is so much more accessible," says Kathleen. And while the Hartshorns could shoot anywhere with many different devices, they chose their home state and Wes's hometown: Dayton, Ohio.
 Read the rest of the story
here
.

Written by Maya Vyas a senior at Tippecanoe High School. She an aspiring screenwriter and film producer and interning for FilmDayton this summer. In addition to film she also loves acting in plays and musicals, volunteering at the Victoria Theatre Association and editing and writing for various local literary magazines. She lives in Tipp City with her parents, younger sister and older brother.