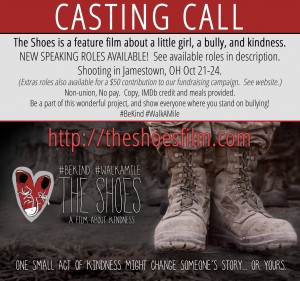 Now casting 3 MILITARY MEN. (All speaking roles) for this Indie Feature Film shooting in OHIO. Must have a military/Army look (or be willing to cut hair). Bonus if you are current or ex-military and have digicam style uniforms available.
***NOTE: These are NON-UNION and NON-PAID roles and requires travel to Jamestown, OH 45335.
Submit only if willing to take on unpaid roles and can travel to SW Ohio. Current planned filming dates are Oct 22-23 but those are not 100% locked.
SAG PAPERWORK IS UNDERWAY but IS NOT GUARANTEED. Please email your headshot and resume to casting@theshoesfilm.com and if selected you will be asked to submit a video audition.