FilmDayton has been nominated for The Dayton Foundation's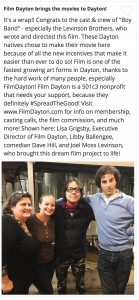 #SpreadtheGood Community Challenge.
Beginning today at noon you can begin voting for FilmDayton to be your favorite nonprofit  by clicking the heart image in the right-hand corner of the box that features FilmDayton. It's very faint, and turns red once you vote.
The three organizations with the most votes on their photos by #GivingTuesday will receive this year's #SpreadtheGood Grants.
first place -$2,000 grant
second place $1,000 grant
or third place $500 grant
Voting ends at noon on Tues,day November 29th.  You may vote up to ten times per day.  We encourage you to share with your friends on your facebook page, twitter and by emailing your friends!
That grant money could help us put on more educational seminars to build our Dayton area crew base! It could also help us with a fly in fund to bring Producers, Directors or Location Scouts to town so they'll bring more productions to the area!
#SpreadtheGood