Thanks to everyone who joined us in October 2013 for the first Director's Cut – featuring our educational program "Freak Club." Keep an eye out for more opportunities here!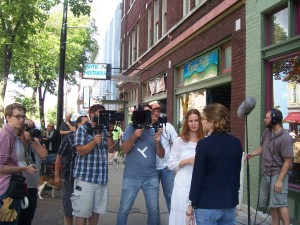 What's the Director's Cut?
In film lingo, the Director's Cut is a special edited version of a project that fully represents the director's vision. For reasons including time or theme or distribution, maybe the film had to be edited down. But the director's cut leaves all the good stuff in and keeps the creative vision of the director in tact.
In FilmDayton lingo, the Director's Cut is your chance to see the inner workings of the creative vision. A special fundraiser to support the year-round work of FilmDayton, the Director's Cut takes you behind-the-scenes for conversations and show and tell with the creative film forces in our vibrant community.
Tickets can be purchased online or by mail in advance of the event. Part of each ticket is a tax deductible donation to FilmDayton, a nonprofit 501(c)(3). More information available in advance of the specific event.
Google+