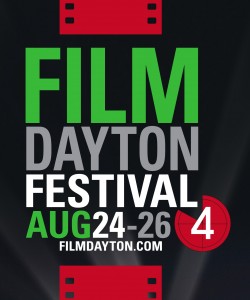 Take a look at the great line-up of locally-connected films featured at the 2012 FilmDayton Festival!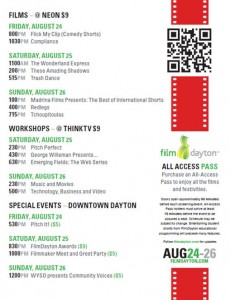 Special events and workshops also fill up this great week end for filmmakers and film lovers. Preceding each feature, we showcase entertaining shorts from our professional development and educational programming.
Here's all the info on getting tickets, parking, and getting around to the different locations.

Films as of August 14, 2012; schedules and titles subject to change.
All Access Passes and single tickets available now.
Flick My Clip (Friday, August 24 | 8 PM)
Flick My Clip is FilmDayton's first foray into accepting submissions. This partnership with Ryan Singer was the perfect fit. Singer started Flick My Clip as an attempt to unite the creative forces and minds of stand up comedians and filmmakers in southwestern Ohio. Comedic shorts under 5 minutes highlight the talent of the writers, actors and directors working in the field. The local talent is the focus and the outside contributors are a unique way to get introduced to the creative minds working hard outside the local frame of comedic reference.
LOCAL: Ryan Singer grew up in Kettering, graduated from Alter H.S. and Wright State University and performed stand-up in Dayton where he lived until a move to L.A. in summer 2011 where he has been taking the comedy circuit by storm and receiving national recognition.
Compliance (Friday, August 24 | 10:30 PM)

Disturbing…riveting…immediate—all are words heard often in film summaries.  In the case of Craig Zobel's  second feature film  Compliance, even they don't convey the film's power.  Based on a true incident, Compliance tells the story of a young female fast-food employee accused of stealing a customer's purse.  The film centers on the telephoned demands of a "police officer" who pushes the restaurant manager to investigate the girl's crime by putting her through a series of escalating humiliations.  This Milgram-like exploration of authority and just how far humans will go to obey it will haunt the viewer and make each of us ask ourselves just how far WE would go in the same situation.  Written, produced and directed by Craig Zobel.  Zobel's first feature, Great World of Sound premiered at Sundance in 2007, and was selected as one of the Top Ten Independent Films of the Year by The National Board of Review and nominated for Best First Film and Best Supporting Actor in the 2008 Independent Spirit Awards. Compliance premiered at Sundance 2012.
LOCAL: Audiences know Producer Tyler Davidson from his previous visit for TAKE SHELTER, the critically acclaimed and Ohio film that included Dayton-based cast and crew.
The Wonderland Express (Saturday, August 25 | 11 AM)

A mysterious device fashioned from a garage door opener changes the perspectives of four different people as they experience and are transformed by its power.  Part science fiction, part psychological drama and part comedy, The Wonderland Express premiered at the StarLite Film Fest in Winter Garden, Florida in early 2012 and won its first award; the film has been an audience favorite on the festival circuit all across the country.
LOCAL: Directed by Daytonian Greg Nichols, the film stars an all-local cast including Shawn Green, Ryan Singer, Natasha Randall, Craig Roberts, and Charles Larkowski.  Produced by Greg Nichols, Shawn Green, and Rachel Wilson.
These Amazing Shadows (Saturday, August 25 | 2 PM)

Narrowing the field of over a century of movies to 550 films that are of "cultural, historic, or aesthetic significance" could not have been easy, but the National Film Registry did just that.  The captivating 88 minute documentary These Amazing Shadows tells the story of how and why films like West Side Story, Gone With the Wind, and even Blazing Saddles were chosen, and why they retain their importance.  The story unfolds in film clips and extensive interviews with directors, actors, producers, and those involved with the preservation of these cultural icons—including Dayton's own George Willeman, film archivist for the National Film Registry.  The film, which aired recently on PBS, features interviews with Christopher Nolan, Rob Reiner, Zooey Deschanel, Debbie Reynolds, John Waters, and many others.  Co-produced, written, and directed by Paul Mariano and Kurt Norton.
LOCAL: Join George Willeman after the screening to learn more about his role at the National Film Registry and how his recommendation made the list. Willeman has a long history with the Registry – including when the nitrate lab was housed here in Dayton.
Trash Dance (Saturday, August 25 | 5:15 PM)
 Choreographer Allison Orr finds beauty and grace in garbage trucks –and in the men and women who pick up our trash.  Trash Dance, a 65-minute documentary which premiered at SXSW 2012, tells Orr's story of convincing city sanitation workers to collaborate in a unique dance performance. After months of rehearsal, two dozen trash collectors and their trucks—along with thousands of spectators—turn out on an abandoned airport runway to make their garbage trucks "dance" and create an unforgettable spectacle in the process.
LOCAL: Producer/Director Andrew Garrison began his career in Dayton, by co-founding and making independent films with  local political and media production and distribution group New Day Films,  and soon began freelancing as a D.P. and sound recordist. Garrison, currently based in Austin TX, is an award-winning director whose documentary feature, "Third Ward TX", and his narrative, "The Wilgus Stories", both premiered at SXSW and aired on PBS.
Madrina Films Presents… The Best of Shorts (Sunday, August 26 | 1 PM)
LOCAL: Springfield native Marisha Mukerjee returns with a curated selection of the best international shorts on the film circuit. With the recent attention given to the Welcome Dayton plan and our region's great multi-culturalism, we take this time to explore the feelings of being "foreign."
THE PROMISED LAND:  Directed by Vanessa Knutsen. Mary – an illegal worker living in Israel – must decide whether to uproot her son from the only place he calls home, or risk being deported. (Winner, Best Short: 2012 Palm Springs Shorts Fest)
TSUYAKO:  Directed by Mitsuyo Miyazaki. In postwar Japan, Tsuyako, a factory work and mother, must decide between duty and love, her family and her freedom. (Winner Audience Award: 2011 Outfest.)
THE CITY:  Directed by Topaz Adizes. A New York Muslim taxi driver and his passenger debate the changing landscape of American Identity post 9/11. (Sundance and Los Angeles Film Festival Selection 2009)
LAREDO, TEXAS: Directed by Topaz Adizes. Laredo, Texas the largest inland port city in the US. What should be a simple training day turns into something more when Sam suspects that Juan is an undocumented immigrant.
REVOLUTION: Directed by Abdi Nazemian. A coming of age story about Jack a 16 year old Iranian Boy growing up in 1989 LA. With the 1979 Iranian Revolution a distant memory, Jack learns how to stage his own much smaller revolution within the confines of his traditional family.
Sponsored in part by the Human Relations Council.
Redlegs (Sunday, August 26 | 4 PM)
FilmDayton welcomes Redlegs, a film that the New York Times called "a riveting portrait of young men in shock and in mourning…." Over the course of 68 minutes, the audience follows three 20-somethings as they reunite in their native Cincinnati to attend a friend's funeral.  The grieving trio goes from funeral to bar, baseball to women, anger to sorrow with stops for disc-golf, pool, and milkshakes.
Local: Writer/director/actor Brandon Harris comes to the FilmDayton Festival for the OHIO PREMIER. Many WSU connected filmmakers worked on REDLEGS – filmed in Cincinnati – including Andrew Spohn, Colin Brooks, Cole Pisano and Kelsey Noble.
Tchoupitoulas (Sunday, August 26 | 7:15 PM)

Sidney-born filmmaker brothers Bill and Turner Ross—whose first feature length film, "45365", won a number of accolades including the 2009 SXSW Grand Jury Award for Best Documentary Feature—have turned their lenses and their creative genius to Tchoupitoulas.  Tchoupitoulas (the name means "river people" in Choctaw Indian, and shares its name with a New Orleans street, a restaurant, and a district outside the city) is an exhilarating and sometimes dreamlike recounting of one night in New Orleans among the city's thriving nocturnal populace. Told through the naïve eyes of three young boys, the film introduces them and us to a parade of entertainers and revelers in moments, vignettes, performances, and conversations throughout the dark city streets.  Tchoupitoulas provides audiences with a surreal  and kaleidoscopic look at the darker side of New Orleans.
LOCAL: Directed, produced, and filmed by Bill Ross and Turner Ross from Sidney, OH.  The Ross Brothers' first feature length film, "45365", was the winner of the 2009 SXSW Grand Jury Award for Best Documentary Feature. They have garnered numerous awards, including the Independent Spirit Truer Than Fiction Award; nominations for Editing, Cinematography, and Debut Feature at the Cinema Eye Honors; and the London BFI Grierson Award.
Take a look at the entertaining shorts that will precede the features. You'll catch work from some of the most talented aspiring and student filmmakers from the area.
Google+