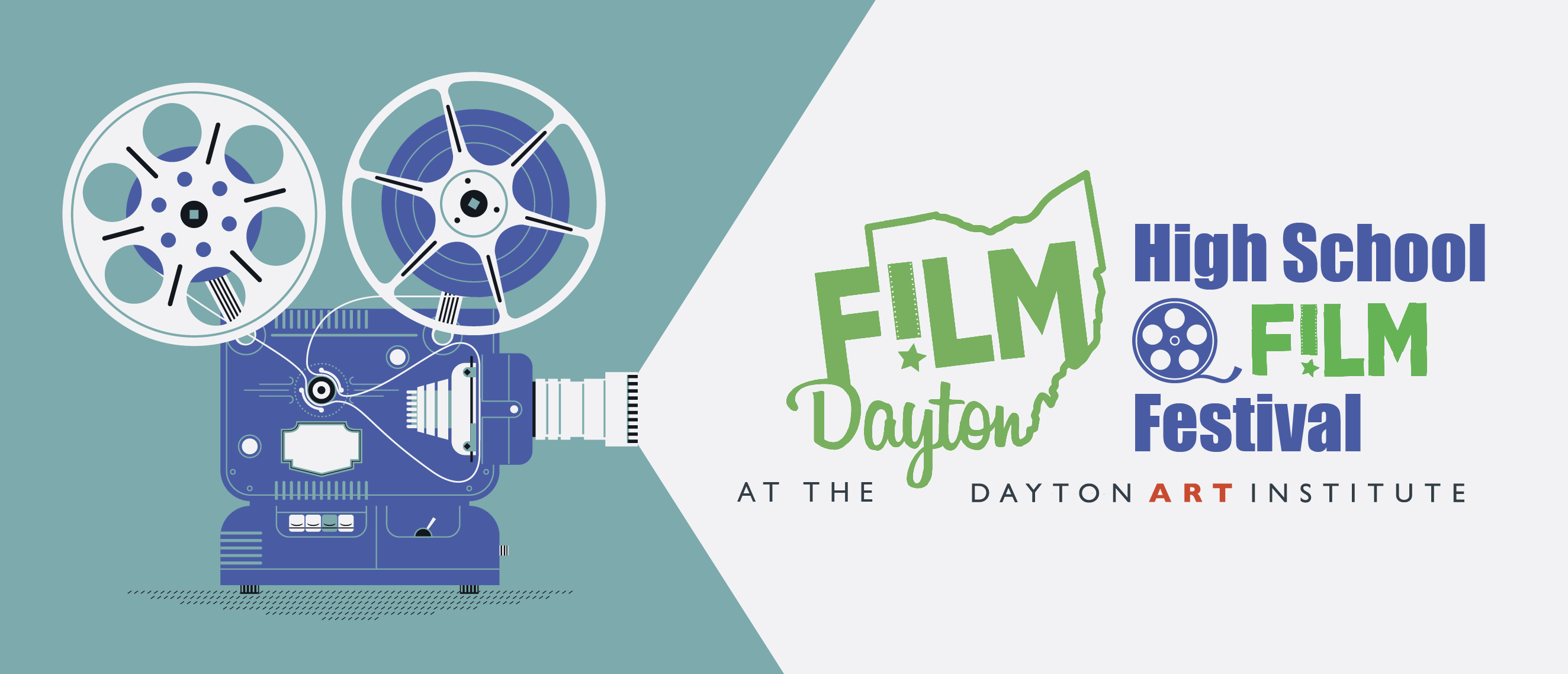 The FilmDayton High School Film Festival is the only kind in the region. The three major objectives of this event are to encourage excellence in media arts education, recognize creative achievement in film/video production and to foster an exchange of ideas between students with different backgrounds and points of view. The festival draws entries from schools all over southern Ohio and northern Kentucky.
What makes this festival unique is the two tier judging process.  All films will be viewed by a panel and students will receive feedback.  Three films in each category will be advanced to the festival and screened in front of a live audience and  a panel of professional filmmakers and receive live feedback at our Festival on April 19th at the Dayton Art Institute.
Formerly the SunDog Film Festival which originated in 2003, previously participating schools include Centerville, Greenville, Kettering Fairmont, Hilliard Davidson, Kings, Miami Valley Career Technology Center, Stivers School for the Arts, The Miami Valley School, Upper Arlington, Wilmington, Yellow Springs, Ferguson MS, McKinney MS, and Franklin Jr. High.
The following Categories will be included for the 2020 Festival:
Animation
Traditional, Stop-Motion, Computer-Generated, 2D, 3D, Claymation are all accepted.
Broadcast Journalism
Newsworthy subject that highlights creativity and subjectivity and makes an emotional connection with the viewer.
Comedy
Make us smile, make us cringe, make us laugh…
Documentary
We will accept all forms and styles as long as they are nonfiction and document an aspect of reality.
Drama
Share your narrative stories. All forms of narrative films accepted. Bring on the characters and conflicts!
Experimental
If your film is non-traditional, non-narrative or otherwise hard to define, this is the place for it. Get weird, break the rules and express your style.
Music Video
Find a song and share its story or essence through visual imagery. All forms of music videos are accepted. Music videos with copyrighted music must have explicit permission).
PSA
All forms of Public Service Announcements are accepted.
---
 Opening Date

Earlybird Deadline $5

Regular Deadline $10

Notification Date
Film Contest Rules & Terms:
Your submission's total runtime (TRT) must NOT exceed the five minute time limit. Credits are included in your TRT and credit runtime must NOT exceed 30 seconds.
We strongly recommend that you triple check your audio levels and that your audio is NOT limited to one channel (ie: right or left).
Any film that includes main dialogue that is not english must be submitted with english subtitles.
All music and other copyrighted material (images, videos, etc.) used in the films must be properly licensed.
By submitting an Entry, you hereby grant to the Festival a non-exclusive, royalty-free, fully paid up, perpetual, irrevocable, non-exclusive and fully sub-licensable right and license to use, reproduce, modify, adapt, publish, translate, combine with other works, create derivative works from, distribute, perform, edit and display such Entry (in whole or part) including, without limitation, the names and likenesses of any persons or locations embodied therein, and/or to incorporate it in other works in any form, media, or technology now known or later developed. These rights include, without limitation, the right to use the Entry in any and all media including but not limited to the Festival's and the Festival's licensee's social media properties and/or offline media, in perpetuity without compensation, permission or notification to the Entrant or any third party. By submitting an Entry, The Entrant acknowledges that the Festival has no obligation to use or post any Entry submitted. Subject to these Terms, the Entrant retains copyright ownership of the Entry.