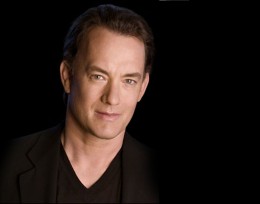 Actor Tom Hanks Assisting Wright State University With $150Million Fundraising Campaign.
Dayton Daily News staff writer,  Arundi Venkayya, reported on Sunday October 19, 2014, that Oscar award winning actor Tom Hanks has joined Wright State University leadership in their $150million "Rise. Shine." fundraising campaign.
"Rise. Shine." is reported to use funds for scholarships, faculty recruitment and retainment, as well as development of future state-of-the-art programs and facilities. Hanks was named co-chair of the campaign, joining Wright Brothers great grandniece, Amanda Wright Lane in the effort. The actor addressed the audience via pre-recorded video, stating that he is on set in Europe with Steven Spielberg. In the video, Hanks refers to WSU as "our" university, in the context of recounting his conversation with David Hopkins, President of WSU.
Hanks has a long standing relationship with Wright State University students and faculty. Many students have worked with his "Playtone" production house and he has enjoyed a long standing friendship with W. Stuart McDowell, Chair and Artistic Director of WSU Dept. of Theater, Dance & Motion Pictures. McDowell and wife Gloria Skuski, Director of Education and Broadcast Services for ThinkTV Network of Dayton, have a long history of friendship with Hanks reaching back to the actors days of struggling for work as an actor in New York City.
Reaching beyond the actors deep affection for Wright State University and being a fan of films created by the schools stellar faculty and students, Dayton, Ohio has a place in his heart. As reflected in his work, there is a special place in his heart for American history, specific to space, aviation and the military. In Dayton, Ohio those worlds collide with his appreciation for the fine learning institute named after his heroes and  personal friends who were part of his journey as an aspiring actor.
Here is the link to the pre-recorded message of Mr. Hanks addressing supporters with the announcement of the Rise. Shine. campaign:
You can read the full article from the Dayton Daily News here:
http://www.mydaytondailynews.com/news/news/tom-hanks-connection-to-wright-state-long-standing/nhmhr/#3166debc.3834743.735527