Festival Workshops Focus On The Business of Film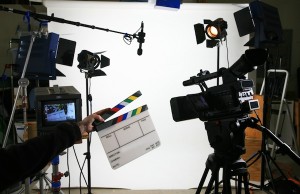 FilmDayton's 7th annual Film Festival showcases the business of film. "Far from being simply about actors in front of the camera, the film industry would not exist without dedicated professionals working behind the scenes," shares FilmDayton President Shaunn Baker.
Festival workshops all are aimed at the filmmaker and providing them with a basic understanding of the business aspects of filmmaking. Workshops will feature professionals sharing information about unions, business plans and financing films, while the screenings highlight independent filmmakers with award-winning and locally-connected films. Workshops are underwritten by the Eichelberger Foundation and the Ohio Arts Council.  Full festival schedule is available at www.filmdayton.com.
Sat, Oct 24th 12:30pm Panel Discussion   Understanding Union Contracts
Making movies is big business. And where there is big business, the workers unite to form unions. Above the Line (individuals involved with creative side: actors, producers, directors) and Below the Line (individuals who perform the physical production of a given film including editing). Understanding what's expected and what contracts to use and who to contact demystified.
Sat, Oct 24th 2:30 Panel Discussion: Call Your Lawyer–
what to know before you start filming.Learn about forming a corporation, financing, copyright, trademarks, crowdsource funding and more.
Jeff Senney – Pickrel, Schaeffer, and Ebeling
Federal and State Taxation, Business and Securities Law
Rob Hassman – Freund, Freeze & Arnold- Cincinnati/Northern Kentucky Office
Copyright and Trademark law in the Entertainment Arena

Sunday, Oct 25th 12:00pm Workshop: Funding Your Film
Doug Lodato attended Stanford University, where he earned a Bachelor's in English with an emphasis in Creative Writing. After a stint in a bank, he went to NYU's graduate film school, where his classmates included some of the most well-known film makers of today. He raised approximately $800,000 after graduation, from private investors, and made a film which lost nearly every penny. He learned from this experience, and has studied film finance models as he has directed and produced. He raised over $5 million privately and combined this money with subsidy programs in North America to substantially increase the cash flow of the film TICKET OUT, without diluting equity or selling rights. He is working on the financing of a few films he will make, including CRASH DUMMIES, which currently has 70% of the funding arranged in Australia, and which he will make with Chris Noonan, writer-director of BABE
Doug will speak to the budgeting process, and to typical financing avenues: industry as represented by the studios, industry as represented by foreign pre-sales, private equity via Information Memorandums, and potentially cutting-edge subsidy/equity possibilities. He will offer his opinion as to what types of films have, in the past, represented the best entrees into the industry for young filmmakers.
TICKETS: Can be purchased at www.filmdayton.com
All-Access Pass (good for ALL workshops, screenings, and special events) $75.00
Flex Pass (Three Events) $25.00
Single Tickets $10.00
FilmDayton is a non-profit organization dedicated to promoting the art, craft and business of film. We bring together local filmmakers, students and fans at monthly "Film Connections" meetings. We are building an infrastructure to encourage new film making in the Dayton area with the launch of the Greater Dayton Film Commission. FilmDayton originated from the DaytonCREATE effort to foster the growth of the "creative class" and strengthen the local economy.
# #