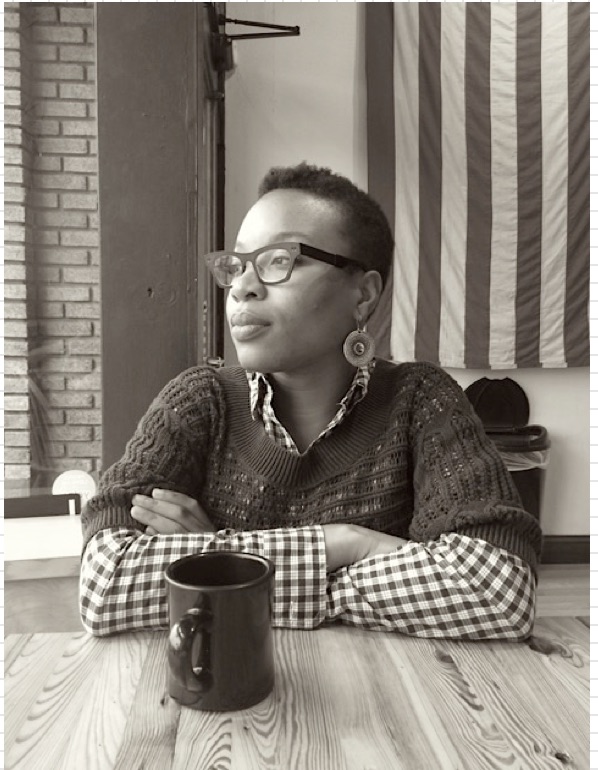 Chinonye Chukwu: Filmmaker

"I've had soundtracks playing in my mind for every moment of my life"
Chinonye Chukwu is an accomplished filmmaker currently teaching at Wright State University in Dayton, Ohio. Her films AlaskaLand, Bottom, and A Long Walk have won numerous awards at film festivals. She was a recipient of the Princess Grace Award and the 2013 prestigious Princeton Hodder Fellowship. Currently, she's developing her next feature film that will push Chukwu as a filmmaker to watch out for.
Where were you born?   I was born in Riverstate, Nigeria in a city called Port Harcourt. All my family is from Nigeria. I'm the youngest of four. I left Nigeria when I was little over a year old. My parents came to Oklahoma to finish their advanced degrees. My father has a PhD in Petroleum Engineering and my mom has two masters, one in chemical engineering and one in petroleum engineering. Then my dad got a job at the University of Alaska Fairbanks when I was six. In January, we moved to Alaska. I would never forget that day. It was like -62. I ended up living in Alaska till I was eighteen so I spent my childhood there.
What was the first film that inspired you? Federica Fellini's 8 ½. I had watched that in the beginning of film school. I was literally at the edge of my seat watching it for the entire 3 plus hours. I was captivated with every frame and I was like—wow you can do that. I had always known that I enjoyed stories, but I hadn't been exposed to a lot of films that inspired me craft wise. It really inspired me to engage with the craft of filmmaking opposed to just my love of filmmaking. It inspired me to be more intentional about my choices in that I actually have choices and I'm not just going off purely by instinct.
What made you want to become a filmmaker?  I have known I wanted to be a filmmaker since I was thirteen. It was the only thing that made sense to me. I saw the world in a series of images juxtaposed together. I had soundtracks playing in my mind for every moment of my life— moments of life that I observed or that I have been apart of. Music would transport me to a scene or a film in my head or characters that I would come up with. Today, I was listening to some of the music that I was listening to when I was thirteen. Ok don't laugh! There's some Céline Dion songs, Eric Clapton, and Paul Simon. I come from a country where Céline Dion is like bigger than Beyoncé. We would go to Nigeria all the time when I was growing up and Céline Dion ruled there. And all of the bad 80s songs that no one had ever heard of. Now, I would like to say my music choices have evolved. It just made me think of all kinds of crazy stories.
How did you get started in your career? Being the child of Nigerian immigrants there's no language for being an artist so my parents were like you will be a lawyer, a doctor, or an engineer. I didn't know what I was going to major in during undergrad [DePauw University], so I changed my major seven times until I finally settled on English because there was a script writing class in that program. During this time I was going through severe depression. It was a really dark time. Eventually, I was pushed up against a wall and had to make a choice: to float through this life existing by living by other people's expectations or just go ahead and choose to embrace my life doing things on my terms. So I ripped up my law school applications and decided I was going to pursue this filmmaking thing that I always wanted to do. So I made a documentary my junior year and my senior year of college— it was not good at all. I really didn't know what the fuck I was doing. It was called Four Women: Being Black and Female on DePauw's Campus. I went to a super conservative school in freakin' Indiana. You can imagine the challenges and complexities of being a black woman on that campus. So I did a documentary on that. That was the first thing I did and that is what helped me get into film school. Then I made a film every year in film school and doing so helped me create a body of work that qualified me to help me apply for the Princess Grace Foundation Grant. I got the award and that was the first big break for me. It was like this $25,000 grant to make a film, but more importantly it was reaffirming. These are people who see potential in me. With the Princess Grace Awards its lifelong support through your artistic career. And so I got another grant from them years later. That was a big turning point. It propelled me into a more professional space. It opened doors for
me a bit more from there on.
What's the most unexpected thing that has happened to you as a filmmaker? Being rejected. Like fours years ago, it was like rejection after rejection. I didn't expect it. I'm working really hard and I felt like I'm reasonably talented. I'm doing all the right things. It was so unexpected, but in actuality it was a blessing. So much of my filmmaking journey has been a journey of self-actualization detaching from ego and really embracing the rejection. Realizing that my continuation of my craft is not contingent upon on an acceptance or a rejection has really been a transformative way of thinking as an artist. It has made my work better. It has made me a better educator. It just made me a better person.
What's the last film that made you cry?   Mommy (2014) by Xavier Dolan.
Is there any character in a film you would be and why? It hasn't been written yet.
Directors that you admire? Federico Fellini, Kasi Lemmons, Guillermo Del Toro, Alejandro Gonzalez Iñárritu, PT Anderson, Martin Scorsese, Spike Lee's documentaries, so, so many more.
If you had an unlimited budget what type of movie would you make? I really want make a Nigerian sci-fi film that takes place in Nigeria.
What's the benefit of making a film in Dayton or in Ohio? I can imagine this place being incredibly cheap to shoot in where you don't have to worry about paying crazy amounts for permits or location fees. There is also something kind of ugly beautiful about Dayton. It's grungy and there's a beauty in the grunge. Visually it could be a really appealing place to film in. Very independent. Population wise there aren't a lot of people here so it would be really easy to shut down some streets.
What's the latest project you are working on right now? I'm currently in development of a feature film. It's a fiction film that's exploring the psychological impact of the prison system on those within and outside of it.
How do you like being a teacher? I love it. It's the most transformative thing I ever done. The most selfless thing I ever done. It's a form of activism for me. I can't imagine making films without teaching. I can't imagine teaching without making films. It's like the perfect pairing. I get to include my students in my filmmaking journey.