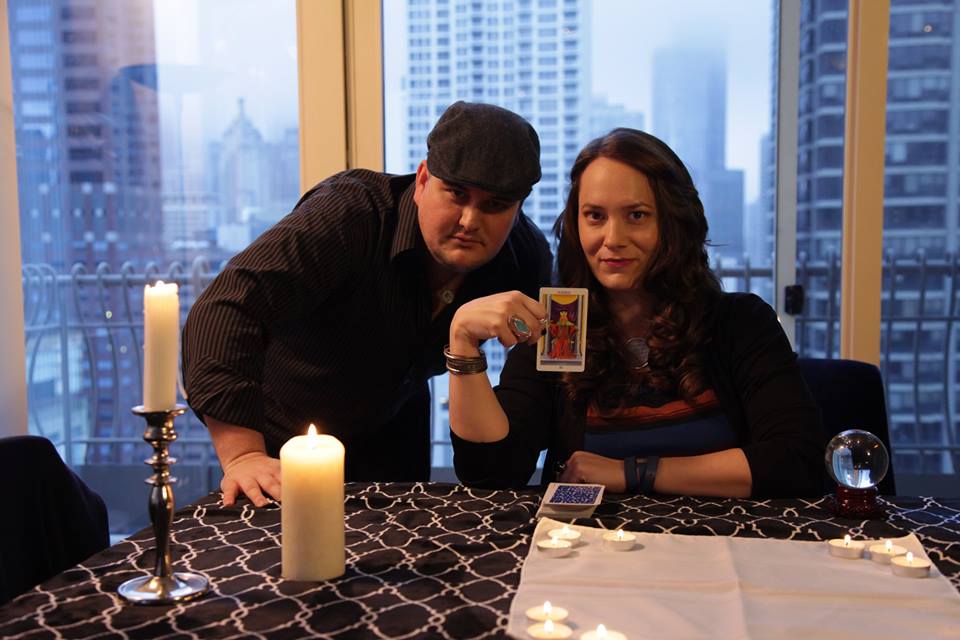 Spotlight On: Jacob N. Stuart
Screenwriter, entrepreneur, director, and mentor are only a few of the titles that describe Jacob N. Stuart. From serving as a "Pitch It" judge and Film Connections speaker at FilmDayton to moving to L.A. for film school, Stuart has had an extensive and successful career leading up to his and Puja Pandey's latest feature film, An Addicting Picture.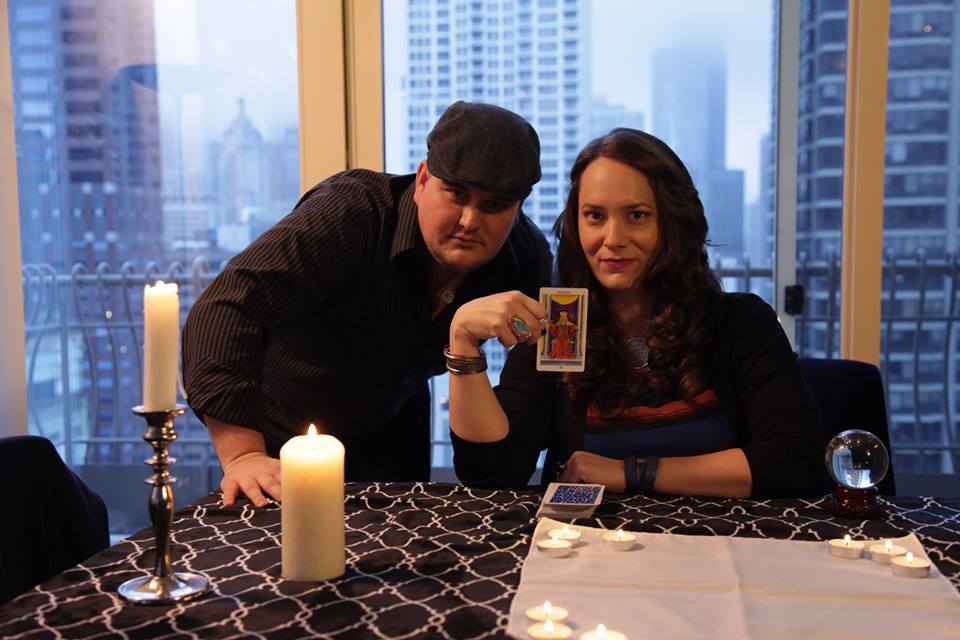 Describe An Addicting Picture:

"The Logline is 'A man must prove he is not an addict after a psychic tells his fiancé not to marry him all because of one picture.' I originally wrote this as a short and it got a lot of attention, so I decided to develop it into a feature. Because the project takes place in one location, spans only one day and has eight or nine characters, there was a lot of interest from producers and filmmakers because the project was easy to shoot – there's really no special effects or anything.
When I was living in Los Angeles, a producer in Chicago, Puja Pandey, wanted to work on it – but going back and forth from Los Angeles to Chicago didn't really work at that time. So, when I moved back to the area – Dayton – we connected again and resurrected the project.
This producer, Puja Pandey, works in IT now but she wants to get into film – especially Bollywood film – but she thought it would be best to make an American film first. It is a very low budget project and if she turns a profit she is going to take that and probably go on to make one more American film, and then exclusively make Bollywood films."
In An Addicting Picture, what are the different roles you have played on set and what advice do you have for transitioning between them?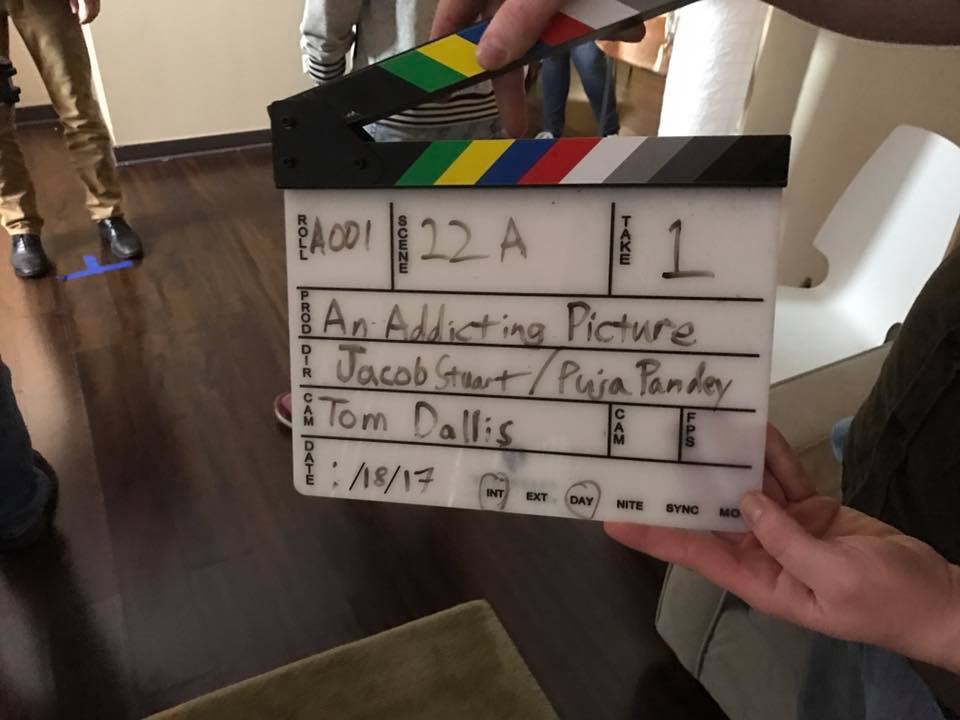 "While I was not the producer on this film, it sometimes felt like it. I was a casting director, wardrobe, props and pretty much everything else. That's been pretty challenging but you definitely learn a lot. Puja has been so supportive, and offered so much productive (and creative) input along the way. One thing I found interesting is that in one of my blogs and a lot of the seminars I spoke on I always tell screenwriters to write low budget projects because they are easier to get made. What I found as a director and wearing a bunch of hats was that low-budget projects really aren't easy to make. Making a low budget project means your budget is LOW. You have to be very thrifty with the things you choose and you can't necessarily get A-list actors – or even B – so you really have to go out and search for actors that are hungry and excited about the project. And that's what we did!
The same thing comes up with the script. When I wrote this to sell and not direct, I was thinking 'Oh, this will be easy to make – it doesn't have a lot of props or special effects.' But now that I have this project in my hands, I know that it is going to be a lot more expensive and intricate than I originally thought.
Another thing I have been trying to tell screenwriters is that, if you have an actor that only has one line, maybe a cashier or something, try to make that character more interesting because someone has to play that role. Most likely that role is going to be underpaid and aimed for actors that are just looking to start out. You gotta make it exciting."
            How do you want to bring more film opportunities to small towns like Dayton?
"When I first went out to L.A. when I was 21, the Ohio area had nothing to offer in film. This actually includes the entire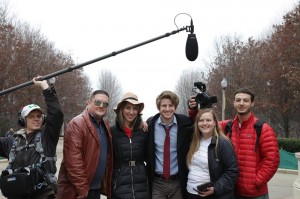 Midwest Area; but now that I am 29 that has completely changed. I don't know the exact budget but Kasich has approved a large sum of money for tax credit back. That's why so many films are being made in Ohio, so it is giving local crew opportunities and Cleveland Film Festival [has thrived so much that now] a film has to win if it has a chance to be nominated for an Oscar. Columbus had a great one but now it's dying down, however, there are ones all over the place like in Cincinnati, Akron and, of course, FilmDayton. So, there is a lot of film here and you don't necessarily have to live in L.A. to be part of it.
TV, however, will always have to be shot in L.A. or New York because that's where the money and development is located but if the tax incentives stay in place, I want to bring more crew opportunities to small towns like Dayton. More and more films will be shot here and I would like to see more films shot in the area because that is going to give the people behind the camera more opportunities. But that is only going to happen if the creatives in the area – the directors and writers – shoot their film here and bring business to the area. That is the only way we are going to see it here. But, yeah, as long as they keep the tax incentives going I will always want to make my films here."
            What are you working on besides An Addicting Picture?
"Well, I connected with a director out in L.A. named Michael Matteo Rossi. He commissioned me to write a pilot for the TV series Vengeance, and, with his connections, he brought in the Executive Producer Tracey E. Bregman who has won a Day Time Emmy. The main lead is a guy named Tyrone Magnus, he has about a million YouTube followers. Basically what we did is brought on all these people with large followings and then made a teaser trailer and it got about a half a million views in a short period of time. I will probably go on as co-creator once I am done with An Addicting Picture.
I also have a couple of features in development. Actually, I have one short that is going to be shot in Poland this spring, Mein Bruder. It is about two Jewish brothers trying to escape Germany, and the Muslim producer/director, Muneeb Hassan, is making the film to show a common bond between Muslim and Jewish people.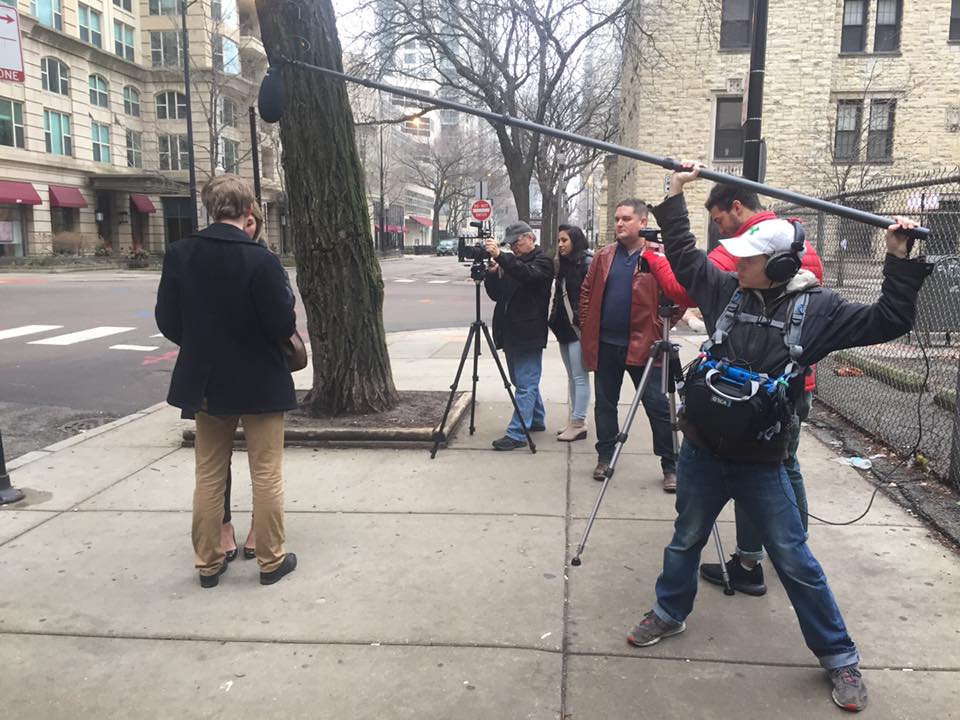 Right now, I have films being shot in various places: Georgia, Chicago, and Poland. The only project I am working on right now that is located in L.A. is the TV series, Vengeance. That shows how it is possible to make film in all parts of the world – again, you don't just have to stay in L.A.
Jacob N. Stuart has found so much success in only a short amount of time. He has been recognized for various awards including Best Screenplay at the Los Angeles Independent Film Festival with his short film Mein Bruder and he is constantly creating new projects and writing new content to move forward the ideals and standards of the modern film world.

Written by our FilmDayton intern  Maya Vyas, a senior at Tippecanoe High School. She an aspiring screenwriter and film producer.