Dayton Natives Premiere Dark Fantasy/Horror Series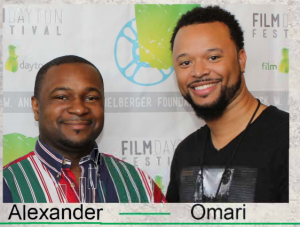 Omari Matlock and Alexander  McCoy-Smith are two independent filmmakers/Founders of Rebirth Films, an independent production company since 2004. While producing projects such as music videos, promo videos, instructional videos and commercials for numerous clients they have as always simultaneously worked on passion projects. Unaware of the commonly excepted order of making films, the duo's first film would be a feature and go to be officially nominated for the Hollywood Black Film Festival.
From there Omari and Alex would continue blazing their own path. The filmmakers would create a web series called 'Reel Independent,' giving fans a true behind the scenes look at filmmaking on a micro budget.
Ready to produce another narrative, the duo would produce a short film titled 'Descent of a Superstar' for a mere $3000. The supernatural drama would also go on to be officially nominated for several film festivals. Now confident they can do anything they set their minds to, Omari and Alex are ready to move to the next level. Determined to push themselves, they've wrote, shot and produced five Short/Concept Films simultaneously. Each film another chapter in their Dark Fantasy/Horror series titled 'Tales from the Blood Fairies'.
Tales from the Blood Fairies will premiere at the Neon  this Saturday at  1:15 pm and you can purchase tickets online for $10
Tales from the Blood Fairies is a modern day anthology similar to classics such as Tales from the Crypt,Twilight Zone and Creepshow. It explores the dark and twisted subliminal underpinnings of beloved fairytales. The series challenges all of what you thought you knew about "Children's tales." Questions like what if sirens, better known as mermaids, truly did walk the surface? Or, what does it mean when Peter Pan takes your children away forever? So,-my question for you is, what if what we've been lead to believe about fairy tale's is a lie?
Directly following the premiere will be a networking after party, located at Delish Cafe in Downtown Dayton. Attendees will experience fun, food, and the opportunity to meet talented people in the Dayton region. If you attend the movie premiere, please hang onto your ticket to get into the Networking Party for free, otherwise there will be a $5 entry fee.  The movie premiere and the networking party are open to the public.