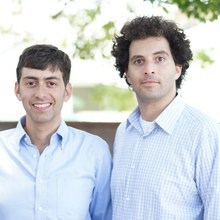 Dayton Filmmakers Launch Kickstarter Campaign
Yellow Springs filmmaker Joel Moss Levinson and his LA based brother Stephen, in conjunction with Dayton based Physis Films have just launched a Kickstarter campaign for "Boy Band" the first feature length musical comedy being produced entirely in the Miami Valley.
Starring Steve Agee (New Girl, Sarah Silverman Program, Guardians of the Galaxy Vol. 2) Seth Herzog (Role Models, 30 Rock) Jordan Carlos (Broad City, Nurse Jackie) Esther Ku (The Jim Gaffigan Show, Girl Code) and directed by Joel and Stephen Levinson (monologue writer for The Tonight Show).
Production is slated for October 15th to the 28th being filmed entirely in the Miami Valley.
A Kickstarter campaign runs through September 30th, 2016 to create awareness for the film in addition to raise the final funds needed for the star studded cast.
The producers, Wes and Kathleen Hartshorn, are active members of FilmDayton and supporters of the newly established, Greater Dayton Regional Film Commission who hope to put Miami Valley on the map to bring more films to the area.
Please forward further inquiries to boybandthemovie@gmail.com