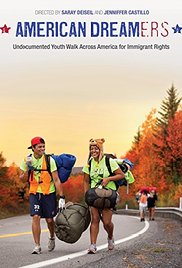 Film Series Highlights the Latino American Experience
The Dayton Human Relations Council is partnering with the University of Dayton to present a film series on the Latino American experience. Admission to the following films, all shown on the University of Dayton campus, is free:
"American DREAMers"
(Host: Mayor Nan Whaley)
Thursday, Sept. 15, 6:30 p.m., Roesch Library Collab
"American DREAMers" tells the story behind the Campaign for an American DREAM (CAD), a group of six undocumented youth and an ally who risk their freedom when they publicly come out as undocumented and walk 3,000 miles to the nation's capital to organize for immigrant rights. These are college students, young professionals, activists, and community leaders. Follow their journey as they come out of the shadows, share their stories, empower communities, and put everything on the line to fight in what they believe is their civil rights movement. They are undocumented and unafraid. And some are UndocuQueer, too.
"Cesar's Last Fast"
(Hosts: ABLE Immigration Attorneys and Migrant Outreach Workers)
Thursday, Sept. 29, 6:30 p.m., Roesch Library Collab
Cesar's Last Fast is a multi-platform feature documentary film about the private sacrifice and spiritual conviction behind Cesar Chavez's struggle for the humane treatment of America's farm workers, and the impact Chavez's legacy has on today's generation of organizers fighting for farm worker rights. The film is built around powerful, never-before-seen footage of Chavez's 1988 "Fast for Life," a 36-day act of penance for not having done enough to stop growers from spraying pesticides on farm workers. The story of this water-only fast is the film's dramatic arc into which the filmmakers interweave the historic events that defined the life mission of America's most inspiring Latino leader and the struggles confronting today's farm workers.
This project is more than just a film. It is a powerful tool to engage people and organizations to participate in social justice movements using Cesar Chavez's inspiring story as a model for how individuals and communities can address the inequities they confront every day. To carry out this social impact initiative, the filmmakers will partner with national civil, labor, human rights, and faith-based organizations. These partner groups will organize community-based screenings and incorporate the film into their social justice campaigns. This strategy will ensure the film reaches a new generation of immigrant workers who may not know Chavez's story and his impact on Latino civil and labor rights in the United States.
"Hecho en Mexico"
(Host: Gabriela Pickett, owner, Missing Peace Art Space)
Thursday, Oct. 13, 6:30 p.m., Roesch Library Collab
A celebration of Mexican identity and culture told through the music of some of the most iconic international artists. From Diego Luna and Alejandro Fernandez, to Carla Morrison and Chavela Vargas, Duncan Bridgeman weaves a cinematic tapestry composed of original songs and insights from the most iconic artists and performers of contemporary Mexico. With striking visuals, the movie captures the rich diversity of Mexican geography, art, music, and culture. It is a rare look at the country's real identity, and an unparalleled celebration of what it truly means to be "Hecho En Mexico,"
Parking: Use the main campus entrance (Stewart Street, just east of Brown Street) and follow the signs to visitor parking. An attendant will issue a parking pass.
For more information, contact the Human Relations Council at 937-333-1403.