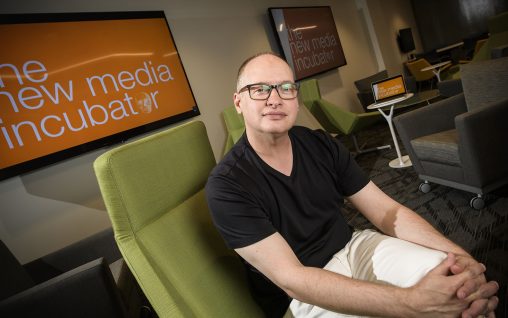 New Media Incubator is creative space for communication, motion picture students
Communication and motion picture students at Wright State University can collaborate and create stories in new ways in a dedicated space opening this fall.
The New Media Incubator provides meeting areas, a computer lab and studio space to make it easy for students in the Motion Pictures Program and from the Department of Communication to work together.
"The New Media Incubator is a collaborative space to support creative practitioners working in the areas of communication, film and storytelling," said Will Davis, the incubator's manager and an instructor in the Department of Communication.
The Wright State community and the public can check out the New Media Incubator during an open house on Thursday, Sept. 1, from 4 to 6 p.m. The incubator is located at 015 Dunbar Library.
"We are excited about the active, collaborative opportunities that the New Media Incubator provides for our students, faculty and community to engage in developing the media of the future," said Kristin Sobolik, dean of the College of Liberal Arts.
The incubator will host classes, including Video Storytelling, Audio Communication, Performance for the Media and others led by faculty from communication and motion pictures.
A computer lab is available for digital editing, creating motion graphics and publishing work online. The incubator boasts a working television and film studio with professional cameras. In the neighboring control room, students can manipulate and monitor studio events. It also includes open space where students can get together and talk about their creations.
"This is a very active learning space," Davis said.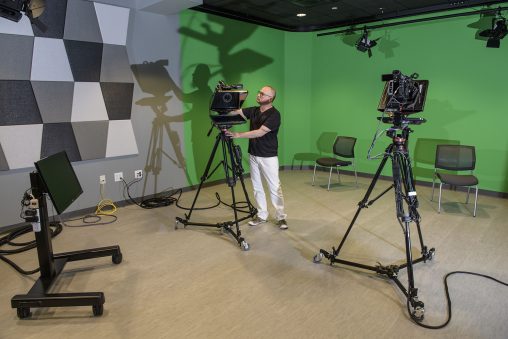 It's an opportune time to open the New Media Incubator. The disciplines of journalism and storytelling are blurring, and students and professionals in the fields of communication and film often use the same tools to create their works, Davis said.
"We want to capitalize on the fact that students from different areas of study will be here working and studying together," he said. "Because I think students from motion pictures have things to share with students from communication and vice versa."
"Journalism and media production are the fastest evolving disciplines," Sobolik said. "The New Media Incubator provides that space, that opportunity for us to be a part of this fast-paced evolution and help lead the way."
Davis plans to host regular events at the New Media Incubator. "Conversations@theINC" is a series of talks by visiting speakers from the local media. "Happenings@theINC" are special events like workshops, screenings and peer review sessions in which students can share their work and get feedback.
He also plans to partner with local businesses and organizations to recruit speakers, request workshops and promote students. At the same time, business can receive specialized training from students in the incubator.
"There are opportunities that professionals from local businesses can come here and learn from our amazing students," Davis said.
The incubator also plans to offer a new media camp at the incubator for teenagers next summer.
"Storytelling is how we give meaning and value to our lives," Davis said, "and new technologies and social media allow more people to tell their stories, and to bigger audiences. Now we're hearing from people who are marginalized. Because of new media they have a way to tell their stories. They have a platform."
This piece originally appeared on The Wright State University Newsroom website and was written by By Bob Mihalek.