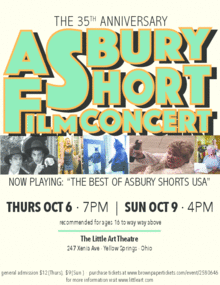 Little Art Presents 35th Anniversary Asbury Short Film Concert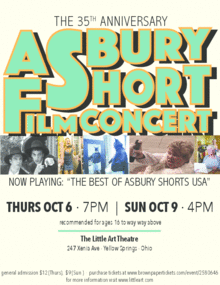 Asbury Shorts, New York City's longest running, non-competitive short film exhibition brings its national touring 35th Asbury Short Film Concert to The Little Art Theatre!Asbury Shorts mission is to keep world-renowned shorts in theaters and performing arts centers across the USon real cinema screens, as opposed to You Tube, smart phones, or computers. An Asbury Short film concert will feature a mix of Oscar Nominees, US film festival Best of Show winners, and international honorees in a fast paced and highly entertaining two hour showcase.Highlights of the 2016 presentation include:

Hypothetically is a  7-minute comedy from New York director Peter Zinn and producer Stephanie Dawson. A smartly scripted short about two possible mobsters hypothetically discussing what could be a potential criminal situation over what may be coffee. The film features well known television and Broadway stars Vincent Pastore (Bullets on Broadway The Sopranos) and Joe Forbrich (multi appearances on top network television and cable shows including: NBC TVs Law & Order).

The Girl and the Gondola  British Director Abbe Robinsons award winning dramatic short brilliantly shot entirely on location in Venice, Italy.  A determined 9-year-old girl, Carla, dreams of becoming a Gondolier, defying 900 years of Venetian tradition.  Winner of Best Short Film at The Marthas Vineyard International Film Festival.

Dime Crimes # 34 from New York based filmmaker and Baltimore native Ed Hellman. Doll, a homebody with a stash of pulp comics is thrown into the world of her favorite stories when she sees a gun hidden in the waistband of her charming new tenant. Featuring score composed by Baltimores hippest music sensation, Bosley!

Showtimes are Thurs, Oct 6th at 7pm or Sun, Oct 9th at 4pm

Tickets are $12 and can be purchased online.